Los Angeles Raccoon Removal
Every Los Angeles Raccoon Removal jobs include a Full Inspection of your property, followed by humane raccoon removal services that fit your specific situation.
Raccoon Feces Clean Up
We have professionals that can clean up & sanitize raccoon poop at your Los Angeles home or building. Need new insulation? We can do that too. This saves you time & money.
Los Angeles Raccoon Exclusion
We can help with protecting your Los Angeles property against future raccoon invaders. We use the latest techniques available & do all is at a great cost too.
Raccoon Removal in Los Angeles - Humane Raccoon Trapping & Control Service
Los Angeles Raccoon Removal. Getting rid of raccoons from the attic, crawlspace, or backyard is NO challenge for our Los Angeles experts. Most people in Los Angeles call us because they have raccoons in their attic or have heard raccoon noises in the attic? Raccoons can also destroy the backyard by rolling back the grass or tearing up gardens. Sometimes the raccoons like got into your crawl space, it's a much cooler place for them to live. Urban Wildlife Trapping Experts can help you with All Raccoon Removals, Clean Ups, and Prevention Services in Los Angeles County.
Cities we service Los Angeles County: Agoura Hills, Alhambra, Altadena, Arcadia, Artesia, Azusa, Baldwin Park, Bel Air, Bell, Bell Gardens, Bellflower, Belmont Heights, Beverly Glen, Beverly Hills, Bradbury, Brentwood, Burbank, Calabasas, Canoga Park, Carson, Cerritos, Chatsworth, Cheviot Hills, Claremont, Commerce, Compton, Covina, Cudahy, Culver City, Diamond Bar, Downey, Duarte, Eagle Rock, El Monte, El Segundo, Gardena, Glendale, Glendora, Granada Hills, Hawaiian Gardens, Hawthorne, Hermosa Beach, Hidden Hills, Huntington Park, Hyde Park, Industry, Inglewood, Irwindale, La Cañada Flintridge, La Crescenta-Montrose, La Habra Heights, La Mirada, La Puente, La Verne, Lake Balboa, Lake View Terrace, Lakewood, Lawndale, Lomita , Long Beach, Los Angeles Animal Removal, Lynwood, Malibu, Manhattan Beach, Maywood, Monrovia, Montebello, Monterey Park, Norwalk, Pacific Palisades, Palmdale, Palos Verdes Estates, Paramount, Pasadena, Pico Rivera, Pomona, Porter Ranch, Rancho Palos Verdes, Redondo Beach, Reseda, Riviera, Rolling Hills, Rolling Hills Estates, Rosemead, San Dimas, San Fernando, San Gabriel, San Marino, Temple City, Torrance, Tujunga, Van Nuys, Valley Glen, Valley Village, Venice, Venice Beach, Vernon, Walnut, Watts, West Covina, Westgate, West Hills, West Hollywood, Westlake Village, Whittier, Wilmington, Winnetka, San Pedro, Santa Clarita, Santa Fe Springs, Santa Monica, Sawtelle, Sherman Oaks, Sierra Madre, Signal Hill, South El Monte, South Gate, South Pasadena, Sunland, Sylmar. If you live in or near any of the cities I have listed, Please Call Us Now 310-528-9229 for Affordable Prices! on Raccoon Control Services.
Yes, raccoons can become a pest. Tired of dealing with raccoons? If that is you, then my raccoon control company in Los Angeles can help solve your raccoon problems for good. We have the experience and know how to make your property free of raccoons. Our experts only using smart, humane and efficient methods that will get rid of your raccoon issues. Los Angeles raccoon removal requires qualified and knowledgeable Los Angeles raccoon experts. If you own a home or business and have raccoon problems, then you can rely on our Los Angeles raccoon removal experts.
Some people refer to this service as raccoon pest control or Los Angeles raccoon control or even raccoon exterminators. We specialize in professional raccoon trapping and raccoon control management. If you own property or business and have raccoon problems, then you can rely on our Los Angeles raccoon removal experts. We are Los Angeles, CA best raccoon trappers. Real raccoon trappers get Dirty!.
Raccoons In The Attic Los Angeles, CA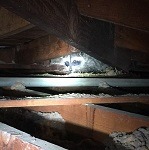 If you have raccoons in your attic, you probably have a big hole somewhere. First of all, raccoons love the attic; it provides high shelter away from people and predators in Los Angeles, CA. An attic is also a perfect place for a female raccoon to have their young ones.  We will thoroughly inspect the outside of the property. In the months of March and August, 8 out of 10 times there will be a Female Raccoons with babies in the attic, this is a very complex case. It involves an adult female raccoon and a litter of baby raccoons. The nest of baby raccoons must be located and removed and trap the mother raccoon. We identify all possible entryways by raccoons oil stains where they have been entering your home over a period. Based on the evidence we find, we will begin repairs. Once the raccoons have been removed safely, Our team can source the entry and exit points. If you live in Los Angeles, CA and need help with raccoon removal from the attic. Give us a call!
Raccoons In The Crawlspace
5 Star Los Angeles Raccoon Removal & Control 
Urban Wildlife Trapping Experts strives to deliver the best in quality for raccoon removal services. We offer low-cost raccoon control services, and tips for raccoon prevention for Los Angeles customers. We can and will beat any local price quote on raccoon trapping, removal or dead raccoon removal in Los Angeles County. If you hear raccoons noises in your attic or walls, please don't hesitate to call us at 1-844-698-7277.
About Urban Raccoons in Los Angeles
While many people in Los Angeles enjoy feeding, seeing and living near raccoons, there are times when raccoons may come too close and create a nuisance. Los Angeles raccoons can cause home and property damage or inflict injury on livestock, pets or people. We witness daily on how raccoons can destroy yards, soffits, vents, screens and wiring seeking shelter in the structure of your L.A. home or building. From raccoons digging in the yard to raccoons in the attic having cute little babies. Raccoons can also cause millions of dollars worth of damages to property owners nationwide. We know from firsthand experience that raccoons do significant damage to properties in Los Angeles. Raccoons are leaving behind urine and feces which can become a health hazard to you or your pets. Call Us Today! For Raccoon Removal Services in Los Angeles.
Raccoon Proofing/Prevention Services in Los Angeles, CA | Sealing off Entry/Exit Points
Raccoon prevention is probably one of the most valuable services you should get done. Raccoons cause damages to your home seeking shelter or trying to nest. We do a thoroughly Inspection of your Los Angeles property to identify all entry/exit points.  Our experts can seal up any entry/exit points caused by the raccoon in Los Angeles, CA. Exclusion repairs will help you for further prevention of nuisance raccoons. We only use high-grade materials to complete every entry/exit point repair. It is standard all our technicians carry these materials. Prices can vary due to the damage and that every home will not be the same as yours.
Raccoon Problems In Los Angeles
Raccoons in Los Angeles usually become a nuisance in the inner cities. These raccoons are labeled as a nuisance due to their destruction and presence on Los Angeles properties. The most common calls and complaints we receive are the following:
Digging up the garden
Rolling back the sod or grass
Living in the attic
Living in the crawlspace
Living in the chimney
Tearing holes through vents or roof
Tipping over garbage cans
Stealing pet food
Coming in through pets door
Dead in the attic or crawlspace
Presence alarming dogs/pets
Sick, potentially rabid raccoons
When this happens, many property owners wish to have the pesky raccoons trapped and removed by Urban Wildlife Trapping Experts in Los Angeles County. We know how to get rid of raccoons in your backyard or attic.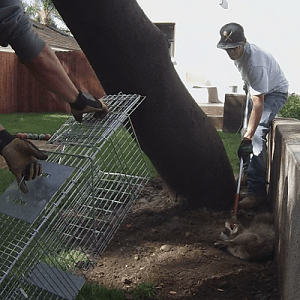 Call Us Today For Los Angeles Raccoon Removal Services
1-844-698-7277
Raccoons at your Los Angeles Residence
Raccoons love the city life and the food source we provide. They can find food just about anywhere in the city. Your home is the best place for raccoons to nest and find food. Grubs and pets food is the raccoon's main food sources. We recommend working on exclusion work to prevent all these from happening, but will not stop them from coming to your yard. The best solution raccoon control would have to be trapping and removing.
Los Angeles Commercial Property
Raccoons adapt to most situations. They love to travel and explore without being disturbed. A business is a perfect area since most businesses close after a certain time. Unattended to rummage through the garbage and nest on the most convenient part of the building. They can also access into your business without you knowing. A full inspection is the best response, addressing anything and everything raccoon problems.
Major Cities and surrounding areas we offer Raccoon Removal & Control Services
Agoura Hills, Ca

Alhambra, CA

Arcadia, CA

Artesia, CA

Azusa, CA

Bell, CA

Bell Gardens, CA

Bellflower, CA

Beverly Hills, CA

Burbank, CA

Calabasas, CA

Carson, CA

City of Commerce, CA

City of Industry, CA

Claremont, CA

Compton, CA

Culver City, CA

Cypress, CA

Del Mar, CA

Downey, CA
El Monte, CA

El Segundo, CA

Gardena, CA

Glendale, CA

Glendora, CA

Grand Terrace, CA

Hawaiian Gardens, CA

Hawthorne, CA

Hermosa Beach, CA

Hidden Hills, CA

Hidden Valley, CA

Highland, CA

Huntington Park, CA

Inglewood, CA

Irwindale, CA

La Canada Flintridge, CA

Lakewood, CA

Lawndale, CA

Lomita, CA

Long Beach, CA
Los Angeles, CA

Lynwood, CA

Malibu, CA

Manhattan Beach, CA

Maywood, CA

Monrovia, CA

Montebello, CA

Monterey Park, CA

Moorpark, CA

Norwalk, CA

Paramount, CA

Pasadena, CA

Pico Rivera, CA

Placentia, CA

Pomona, CA

Rancho Palos Verdes, CA

Redondo Beach, CA

Rolling Hills, CA

Rolling Hills Estates, CA

Rosemead, CA
San Dimas, CA

San Fernando, CA

San Gabriel, CA

Santa Clarita, CA

Santa Monica, CA

Sierra Madre, CA

Signal Hill, CA

Simi Valley, CA

South El Monte, CA

South Gate, CA

South Pasadena, CA

Temple City, CA

Thousand Oaks, CA

Torrance, CA

Vernon, CA

West Hollywood, CA

Westlake Village, CA

Whittier, CA

Wrightwood, CA